Home
Driving School Car
Fiesta Zetec
Mark Novak
of
Drybridge,
Driving Lesson Testimonial
From the first lesson with Dave I felt thoroughly at ease. Dave was very relaxed and pleasant, which helped greatly in reducing any stress. I passed my test with very few lessons, and this was down to the great instructor, and relaxed and enjoyable experience. Thanks to Dave at Glencor.
The Fiesta Zetec Driving School Car.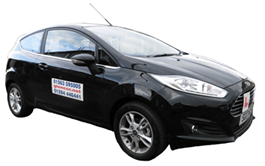 The Fiesta Zetec has an NCAP 5 star rating and is equipped with: -.
A very smooth clutch to ease moving off,
Height adjustable drivers seat - Wide range of adjustment,
Height adjustable steering wheel - Easy to position to suit your seat height,
Electric Power Assist Steering (EPAS) - Making steering during manoeuvres easier,
Air conditioning - Cool inside no matter what the weather,
Very smooth suspension - Drive in comfort and forget the bumps,
Electronic stability control - Helps to reduce loss of traction with the road,
Anti-Lock Braking System (ABS) - Dramatically reduces the risk of skidding while braking,
Electric door mirrors - get that perfect view,
Easy gear change - Change with confidence,
And more.
Caitlin Maclean
of
Irvine,
Driving Lesson Testimonial
I would like to wholeheartedly thank Dave for securing me a ZERO FAULTS pass. My examiner complimented my relaxed driving style which was completely down to being taught in that style. I highly recommend Dave of Glencor for lessons as he gave me the confidence to achieve an excellent pass first time round. Thank you so much Dave.
Familiarise Yourself With The Driving School Car Controls
Spend more of your driving lesson time practising driving rather than being parked up at the side of the road. Before your first driving lesson, familiarise yourself with the driving school car controls by reading the Show & Tell Q&A section of the driving test.
You don't need to fully understand all the controls at this stage. As your driving school instructor, I will always assist with your understanding of the controls.
---
Terms and Conditions
Privacy Policy